image credit from arkansasstateparks.com
Don't miss the 52nd Annual Arkansas Al-Anon/Alateen Convention!
We are so excited for this year's Convention. There will be amazing speakers, games, and meetings! 
If this is your first time attending Convention and you register by February 7th admission will only be $15!
Returnees who register by February 7th pay only $30 admission!
Registration after February 7th and at the door will pay $35 for Al Anon/AA and $10 for Alateen.
So Register NOW!
WHEN: March 8-10, 2024
WHERE: DeGray State Park Resort Lodge
2027 State Park Entrance Road
Bismarck, AR 71929
DIRECTIONS
Send Registration Payments with VENMO!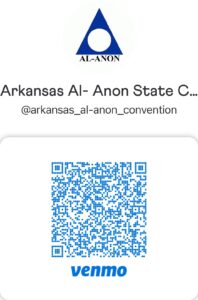 RESERVATIONS: To make your reservation, please contact the Resort directly and mention the Al-Anon Convention for a discounted room rate.
Lodge reservations: 501.865.5851
Campsite reservations: 501.865.2801
degraylakeresort[at]arkansas.com
AMENITIES
Besides the Convention events, the Resort offers a variety of activities, including hiking and walking trails, horseback riding, and golf. For extra relaxation, massage and beauty treatments are offered at the Blue Heron Spa located inside the Lodge, or just spend an enjoyable time visiting with friends in the lobby.